Synergistic Research Quantum Fuses
Synergistic Research Quantum Fuses employ a custom alloy treated with 2,000,000 volts of electricity! SR Quantum Fuses significantly outperform all other high-end fuses on the market and are guaranteed to deliver a noticeable increase in sound staging, resolution and air thanks to a lower noise floor and blacker backgrounds. SR Quantum Fuses are available with a 30-day no risk money back guarantee so you can directly compare them to other high-end fuses on the market including Hi Fi Tuning Supreme, Furutech, and Audio Magic. With over 60 values to choose from, you're sure to find the perfect value for your system's components.
For more info, go to http://www.synergisticresearch.com/featured/new-category-synergistic-research-quantum-fuses-furutech-hifituningsupreme-fuses/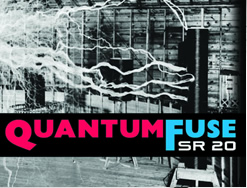 Element Copper Interconnect
Copper lovers will rejoice to the sound of pure copper suspended in an Actively Shielded Air Dielectric. Strong and powerful with rich harmonics and excellent soundstaging; these are the traits copper brings to the Element Series.
Most powerful bass of all elements
More holographic then prior top of the line models
Blends well with any system
Listening notes and findings from our exhaustive 6 month blind listening tests reveal Element Copper to be an excellent cable for audiophiles and music lovers who prize PRAT with strong BASS; a cable suitable for nearly all systems and components, Element Copper outperforms our previous top of the line interconnects (aside from our Galileo System IC's) at a fraction of the price.
For more info, go to http://www.synergisticresearch.com/element-series/element-copper-interconnect/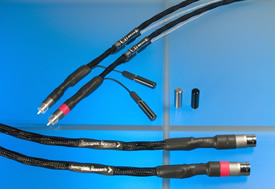 Element Tungsten Interconnect
Element Tungsten was the surprise of our blind listening tests with unsurpassed soundstaging and holographic realism. Overall Element Tungsten is more resolved and palpable then copper and hands down the most realistic of all elements where three dimensionality is concerned.
The most holographic of all elements
Smoother frequency extension then Copper
Exceptional mid-range presence
Listening notes and findings from our exhaustive 6 month blind listening tests reveal Element Tungsten to be THE cable for anyone who wants a "you are there" experience from their favorite recordings; a cable suitable for upper end components capable of a high degree of resolution, Element Tungsten represents state-of-the-art performance at a real world price.
For more info, go to http://www.synergisticresearch.com/element-series/element-tungsten-interconnect/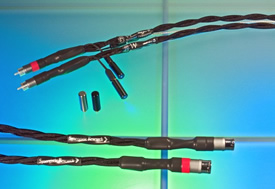 Element Copper-Tungsten-Silver Interconnect
Element Copper Tungsten Silver combines the best traits of each element for the most balanced and highest resolution interconnect in the Element Series. Imagine the low frequency authority of copper, the holographic soundstaging of Tungsten and the refinement and resolution of silver combined in one cable. This is by far the highest performance interconnect we have ever manufactured excluding the Galileo System interconnects which are nearly 10 times the Element CTS's price and arguably this is the highest performance interconnect option your can choose from any manufacturer at any price including flagship products from our competitors. Add a Galileo Universal Interconnect Cell and you truly have a state-of-the-art interconnect that comes very close to our flagship Galileo System cables.
Combines the best traits of Copper and Tungsten and Silver
Silver delivers the highest level of frequency information
The most balanced of all Element Series cables
Listening notes and findings for Element Silver:
"Silver has a deep soundstage in a well rounded polite and non offensive presentation. Absolutely no glare or grain in the upper registers. Balance is the word that comes to mind"
For more info, go to http://www.synergisticresearch.com/element-series/element-coppertungstensilver-interconnect/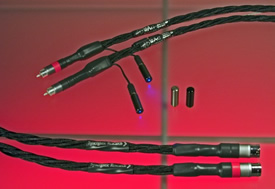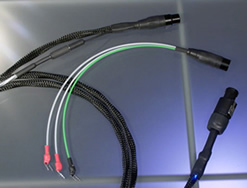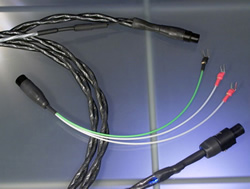 TESLA PowerCell 4
New Breakthrough in AC Line Conditioning
The new PowerCell 4 is based on an evolution of our now patented Electromagnetic Cell Technology. The PowerCell 4 is non current limiting, is not fused or switched for maximum transparency, and sold with a generic 14-gauge power cord that is Quantum Tunneled along with the PowerCell 4 during the Quantum Tunneling process. Listening impressions are based on either an Active TESLA SE T3 or Precision SE AC powering the PowerCell 4. Sonically the PowerCell 4 is highly detailed with a sweet treble and controlled low frequency presentation. Its sound staging is more pinpoint to the PowerCell 10 SE MKII's massive liquidity. Where the PowerCell 10 SE MKII throws the larger and more liquid sound stage, the PowerCell 4 is articulate and able to throw a large and highly focused sound field. This difference is much like the difference between a TESLA SE Precision AC power cord and a TESLA SE Hologram A or Hologram D power cord.
New Electromagnetic Cell Design
The PowerCell 4 is perfect for small systems, monoblock amps that are located far away from the source and preamps, or your source components. The PowerCell 4 also improves picture quality on any display, with darker black levels, better color saturation and a more 3 dimensional picture, simply amazing. 2 TeslaPlex SE receptacles provide 4 outlets in this fully differential designed PowerCell. Fully differential means that the hot, neutral, and ground all have their own separate power paths to and from the magnetic cell. What does this mean? Even better performance, blacker backgrounds, improved dynamics and a more holographic soundstage. Pair with the TESLA SE T3 for outstanding performance.
For more info, go to http://www.synergisticresearch.com/tesla-power-products/tesla-powercell-4/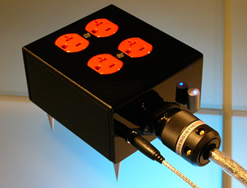 TESLA PowerCell 10 SE MK III
The new TESLA PowerCell 10 SE Mk III and the Galileo PowerCell LE are direct trickle down technologies from our cost no object Galileo Research Program. The TESLA PowerCell 10 SE Mk III differs from the original SE significantly. The MK III's Electromagnetic Cell has ramped up performance with the addition of precious metals at critical points within the cell structure along with a newly developed groud plane, which was developed during the Tranquility research program . With new TeslaPlex SE outlets and the use of an external"Active circuit" the new cell and additional new ground plane design yields a much lower noise floor and better ambient retrieval. Top all of this off by adding the new TESLA SE Precision AC power cable terminated with our new G07 wall plugs and using interchangeable Active Shielding modules "Enigma Bullets".
The New Active modules allow an end user to change the sonic balance of the TESLA PowerCell 10 SE MK III from rich and warm with the Black Active Module to open and airy with the Silver Active Module and a hybrid of both Black and Silver with the Grey Active Module. Overall the new TESLA PowerCell 10 SE Mk III is a significant upgrade over the original and a more versatile line conditioner due to the new TESLA SE Precision SE power cord that allows the conditioner to match a wider range of systems by simply changing out the Active Modules "Enigma Bullets" from Black to Grey to Silver.
For more info, go to http://www.synergisticresearch.com/tesla-power-products/tesla-powercell-10-se-mkii/