MOJO
MOBILE DAC AND HEADPHONE AMP
Chord Electronics is proud to introduce Mojo, the ultimate DAC/Headphone Amplifier for your smartphone that's a winner of the Best DAC 2016/2017 EISA award and 2016 What HiFi? Best DAC award. Simply connect Mojo to your iPhone, Android phone, PC, or Mac, plug in your headphones and you can experience crystal clear audio the way you would hear it in the recording studio.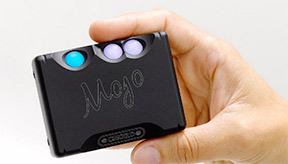 HUGO
MOBILE DAC AND HEADPHONE AMP
Our game-changing DAC/headphone amplifier, Hugo, is now available in a new Satin Black finish! The luxurious new Satin Black version joins the silver model, giving greater flexibility for system-matching and integration into existing Chord systems.

The finish is achieved using an anodizing process, which offers a superior black-depth and colour consistency. Both the inner and outer case is treated, offering lasting protection. Contact your dealer now to find out more.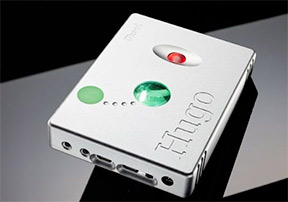 LEATHER CASE FOR HUGO
The Hugo has quickly established itself as the definitive DAC/headphone amplifier for both home and mobile use. Now, Hugo customers can protect their device and house a digital audio player or cell phone, in the new Hugo Leather Case. Following a lengthy consultation process with owners, retailers and distributors, the design has been carefully finessed over many months at Chord Electronics' HQ Available in an exquisite black leather or natural tan, the Hugo Leather Case is the perfect accessory for any Hugo owner and offers protection both in the home and on the move.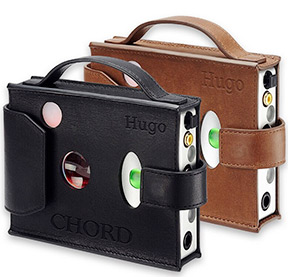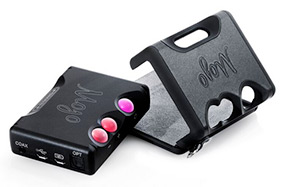 CABLE PACK FOR MOJO
We have some great news for all you Mojo owners, and prospective owners, because our new To Get You Started Mojo Cable Pack is now ready to be ordered from your local Chord retailer.

We've put together a comprehensive package to accommodate most devices, which even includes our first module; the USB adapter block, which makes connecting Mojo with an OTG cable or 'Lightning to USB Camera Adapter' easier than ever before. Simply plug the adapter into Mojo, plug your Apple Lightning to USB Camera Adapter into the USB port, and you're ready to go.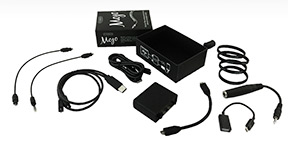 HUGO TT
DESKTOP DAC AND HEADPHONE AMP
With the new Hugo TT (Table Top) we've built on the extraordinary success of our genre-defining Hugo DAC/headphone amplifier. The new larger desktop-orientated device offers greater connectivity including a USB-B input, XLR outputs, two quarter inch headphone outputs, plus improved performance and features.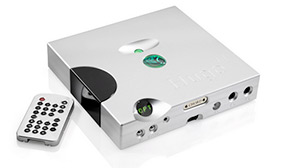 Ttoby
STEREO POWER AMPLIFIER
Ttoby is an exciting new desktop stereo power amplifier designed to compliment the HugoTT Dac and take advantage of its high quality digital pre amp functionally. The Ttoby has been created using the same form factor as the HugoTT and its introduction enables desktop audio lovers to create a high performance chord system where space is at a premium. It delivers 130w into a 40ohm load.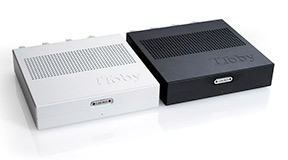 2 QUTE
USB ASYCHRONOUS DAC
The new 2Qute is a compact, affordable standalone DAC which combines two award-winning products in one: the revolutionary Hugo DAC/headphone amp and the class-leading Qute EX standalone DAC.

The new 2Qute takes the technology from What Hi-Fi? Sound and Vision's 2014 Best DAC - (Hugo) and adds it to What Hi-Fi? Sound and Vision's 2014 Best DAC £700 - £1,000 (Qute EX). The result is a new super-DAC for 2015 with class-leading specification, outstanding technical measurements and proven sonic performance.

2Qute advances the award-winning Qute EX DAC into 2015 with the latest Hugo specification. Essentially a Hugo in a Chordette chassis, it brings the latest FPGA DAC technology into an affordable home-system-orientated unit. 2Qute contains the same high-performance Spartan 6 FPGA that has enabled Hugo to redefine the DAC genre in 2014. The 2Qute also boasts astonishingly low distortion levels of 0.0003%.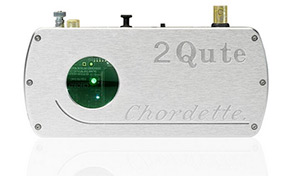 DAVE
ADVANCED DAC/PREAMPLIFIER
Chord Electronics has launched its most advanced DAC to date. Given the acronym DAVE, Chord''s latest-generation digital-to-analogue convertor features the very best conversion technology available, using proprietary techniques never seen before.

DAVE is a highly advanced reference-grade DAC, digital preamp and headphone amplifier. Hand-made in Kent, DAVE is based around a proprietary FPGA (Field Programmable Gate Array) offering more than ten times the program capacity of its predecessor.

At its heart lies a new (and in electronics terms, huge) LX75 version of the Spartan 6 Field Programmable Gate Array (FPGA). The FPGA''s extraordinary capability enables a number of key sonic benefits including significantly improved timing and the best noise-shaper performance of any known DAC. DAVE''s technology delivers music with unmatched reality and musicality, with an unrivalled timing response.
Our Verdict
If you're looking for the best DAC money can buy, the DAVE is a superb place to start. We haven't heard anything that sounds so natural or insightful
Read more forthe full review here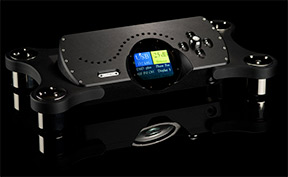 ONE
CD PLAYER
From the same design stable as the world-beating DAC64 and Blu upsampling CD transport, the new 'ONE' integrated player offers exemplary CD replay. 'ONE' forms part of Chord's Choral Series of designer hi-fi - perfect for music lovers with a sense of style.

'ONE' features the same professional die-cast CD mechanism and isolated top-loading arrangement as Chord's flagship Blu CD transport. The latest 24-bit 192kHz devices provide digital-analogue conversion. A fully buffered, true balanced analogue output stage ensures the best possible musical performance.

RCA and XLR balanced analogue outputs, plus BNC SPDIF coaxial digital ensures compatibility with a wide variety of audio systems. 'One' can also be upgraded by adding the DAC64.

ONE is now available in Brilliant (pictured), Satin Silver and Satin Black finishes.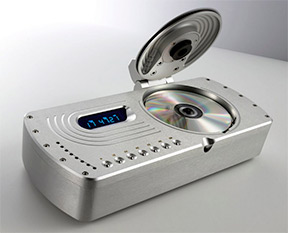 BLU
The Chord CD Transport has been designed to match, both in performance and style, the highly successful DAC64 and also completes the Chord Choral range. For the first time customers can complete their Chord system with a truly stunning source component. Called Blu the CD Transport shares the same ground breaking technology that has made the DAC64 one of the most successful Digital to Analogue Converters ever produced. As a dedicated state-of-the-art, 2-channel CD Transport, Blu takes full advantage of the WTA Filter technology used in the DAC by having it's own 4096-tap, 80-bit WTA filter.
With features like selectable up sampling from 44.1 to 176.4kHz and a dedicated word clock input, Blu can also be used successfully outside a dedicated Chord system. The digital connections on offer are; 2x AES/EBU and 2x BNC for Dual Data output, 1x BNC and Toslink optical for standard data output (all selectable via a toggle switch), 1x BNC input for word clock synchronisation, selectable output sampling frequencies are 44.1kHz, 88.2kHz and 176kHz
.
Blu delivers an astonishingly life-like musical performance. This ultra high resolution system delivers far more detail than conventional sources. One can hear more air and space, better separation of instruments, subtle nuances and inner detail. Layers and textures of instruments are more easily discernible. All this without the usual negative trade-offs associated with digital sources. In fact, Blu is smoother and more natural sounding with a distinctly accurate timbre resulting in a more organic, realistic sound. Finally, with a deep wide soundstage and almost perfect timing, Blu delivers the energy, vitality and excitement of the original performance. Blu offers a huge, dramatic, "night and day" sonic improvement, which will be noticed immediately.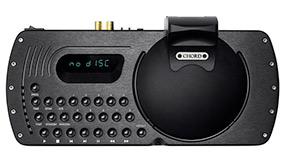 SYMPHONIC
PHONO STAGE
To complete the Choral series, Chord have updated their long standing, high performance phono stage, using the latest high frequency power supply technology along with many key NEW features, to bring the performance levels and aesthetic style in line with the rest of the range. The Symphonic offers an almost infinite number of input impedance and gain options as well as balanced and unbalanced input option to the cartridge, all externally selectable, with selections signified internally with illuminating LEDs. Also incorporated in the design, is a new low frequency Rumble filter. This device uniquely filters out rumble signals appearing on both channels. The Symphonic has been designed for Moving Coil cartridges only.

The Symphonic Phono stage conforms to the RIAA curve without the IEC roll-off when the Rumble filter is set to off. This is commensurate with the high calibre of Chord amplification. The IEC curve response can be added by setting the Rumble filter to on.

According to the wiring of the tone arm on the record deck used, the Symphonic can be operated in either an unbalanced or balanced mode. All domestic equipment is designed to enable unbalanced operation. Better results will be achieved in balanced operation when used in a complete Chord system.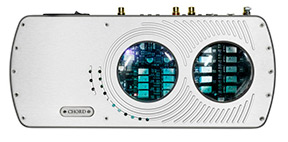 PRIMA
STEREO PREAMPIFIER
The Prima preamplifier meets all the expectations of the ultimate levels of performance set by Chord with its stunning control, high-end audio performance and jewel-like design features. The Prima operates Chord's dual bus system, which allows you to tape from any source while listening to any other. It also hosts Chord's new UHF-designed power supply.

The audio circuit is designed using fully balanced line internal architecture and offers six input gain adjustments independently for the five inputs and low impedance outputs.

Chord System remote supplied as standard.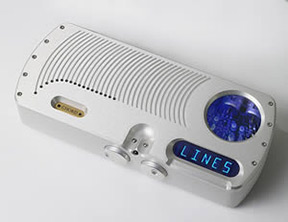 MEZZO MK 11
STEREO AMPLIFIER
The 'Mezzo 140' Power Amplifier is Chords very latest power amplifier design - using four of the new Ultra High Frequency power supplies to give massive power and headroom within a brand-new "double-sized" Choral series chassis.

Mezzo 140 can also be run in bridged mono to provide a huge amount of power on demand. A special Automatic Bridging mode enables bridging without using extra cable.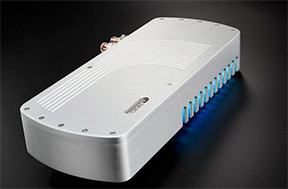 CODEX
HIGH END NETWORK PLAYER
The new CodeX is one of the world's most advanced uPnP network music players, featuring bespoke FPGA DAC technology, DSD 128 file support and 384kHz playback over USB. It's the latest edition to our stylish Choral range and brings advanced music streaming to the line-up for the first time. It joins the recently introduced QBD76 HDSD DAC, with both units bringing the latest advances in high-performance audio to the range.

Featuring much of the technology implemented in our flagship streamer, the DSX1000, including the same front end and control processor, the new CodeX is one of the world's first streaming products to offer the very latest DSD 128 playback over USB, DSD 64 and 192kHz PCM over Ethernet, as well as PCM decoding at up to 384kHz, making it fully compatible with the latest ultra-high-resolution DXD (Digital eXtreme Definition) recordings. Highly future-proof, it also boasts our world-renowned proprietary DAC technology designed by Robert Watts, giving the CodeX a further sonic advantage over ordinary network players with off-the-shelf DAC chips.